STEP 1 – Log into your iAGCO account at https://www.iagco.agco.ca/prod/pub/en/Login.aspx and click on Start a New Application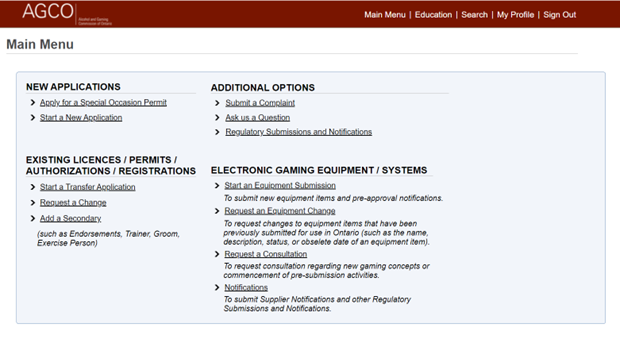 STEP 2 – Select Charitable Gaming Lottery Licence and click Next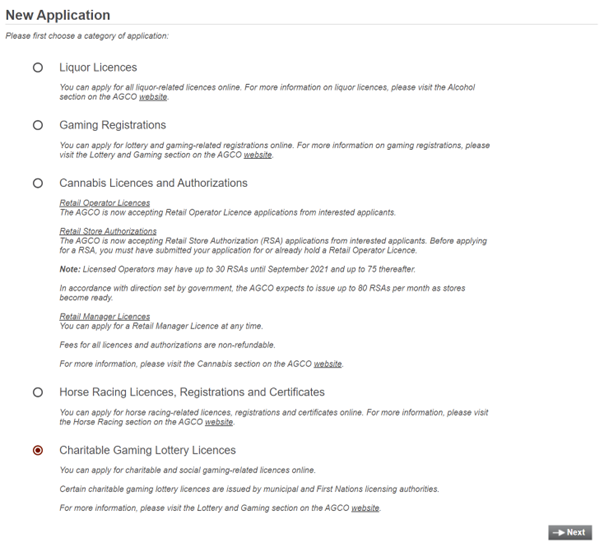 STEP 3 – Select Raffle Licence from the Dropdown. Review the raffle application requirements listed below. Once your account with Rafflebox has been created our team will work with you to draft a sample ticket for the application submission. NOTE – The AGCO will also request a copy of the letter submitted to your municipality informing them of your intent to host a raffle.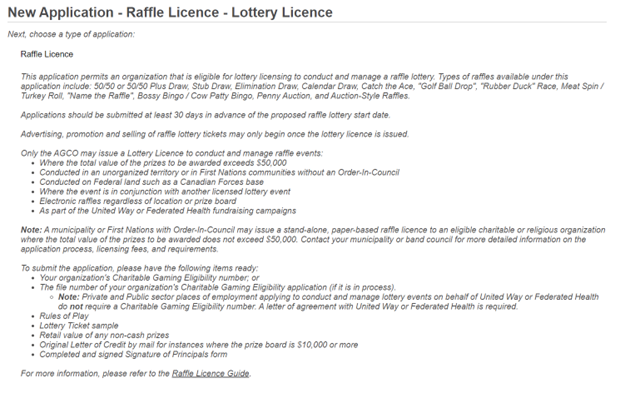 STEP 4 – Select your applicant type from the dropdown, Non-profit should be the default for a Rafflebox event. If you have completed your eligibility application most of the information should be prepopulated if you click Use under the USE EXISTING APPLICANT INFORMATION heading.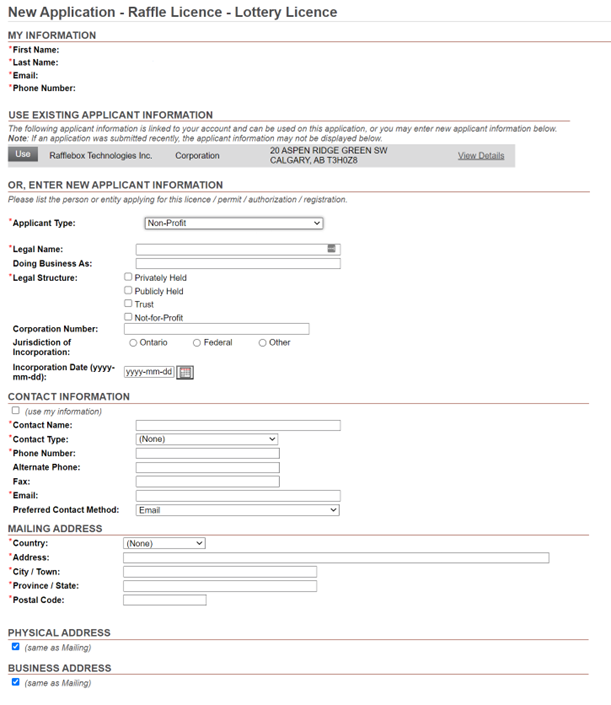 STEP 5 – Select the event premises type from the dropdown and complete the address information.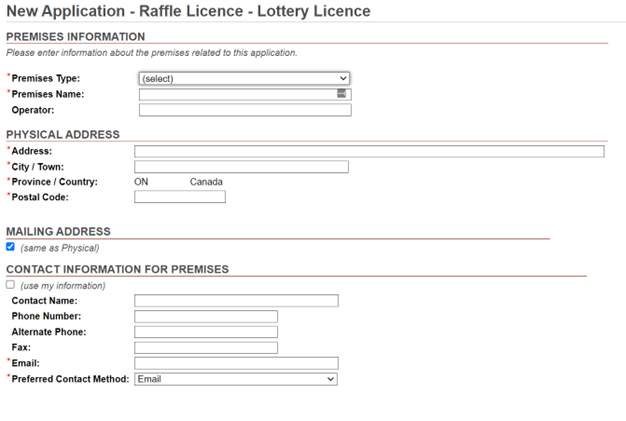 STEP 6 – Select No for the United Way or Federated Health option unless otherwise required for your event. Enter you Charitable Gaming Eligability CEF number or application review number. This file number can be found on your main page after logging into your iAGCO account under Applications Under Review. If you already have your eligibility the then it will be the CEF number under My Approved Licences.

STEP 7 – Fill in your Raffle event details. Enter Yes to Electronic Raffle, your intended start of ticket sales, the draw date or final draw date in your run of draws and the number of draws you are going to hold. NOTE – for a recurring Monthly Draw you would fill in 12 draws, one for each month.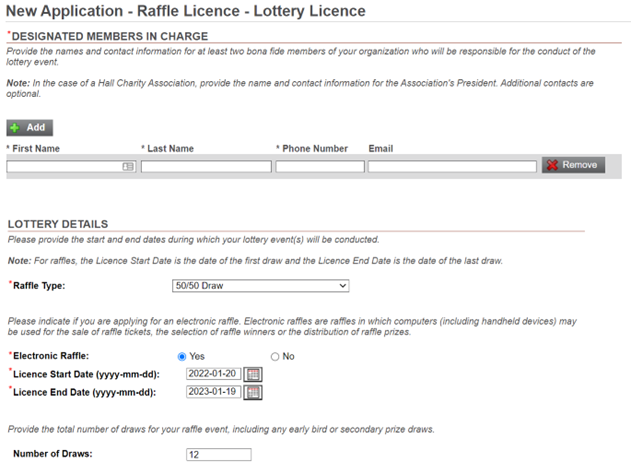 STEP 8 – Complete the Raffle Questionnaire entering details as they pertain to your event plans. The key fields pertaining to your agreement with Rafflebox are filled in below for an example 50/50 application.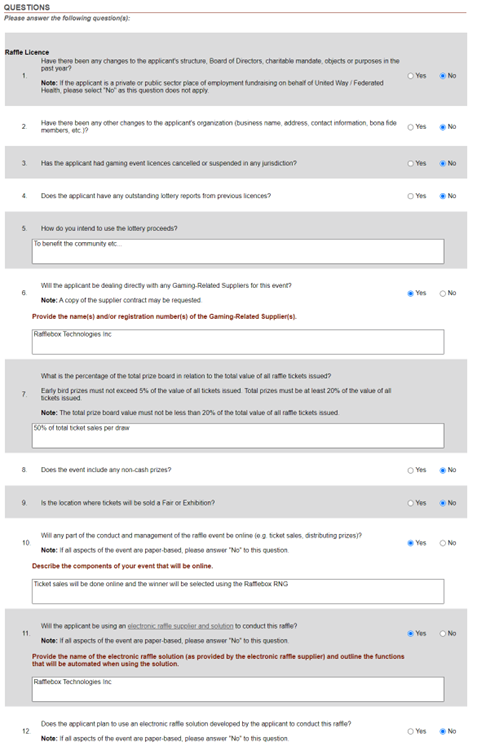 STEP 9 – Lastly you will need to upload the required files to complete your application.
Upload a schedule of draw dates for your event(s).
An excel file with Three columns for Date, Time and Location work best.
Upload a word document with your rules of play (and example can be found at the bottom of this guide).
Attach the Rafflebox provided email ticket example and a copy of your signed Principals document (https://www.iagco.agco.ca/prod/pub/en/download.aspx?PosseObjectId=77117103)
With all of that completed you have completed your raffle application. You will want to reach out to the AGCO by phone to check on the status of your application in about 1 week. It can take up to 4-8 weeks to have an application approved but making contact directly can speed up the process.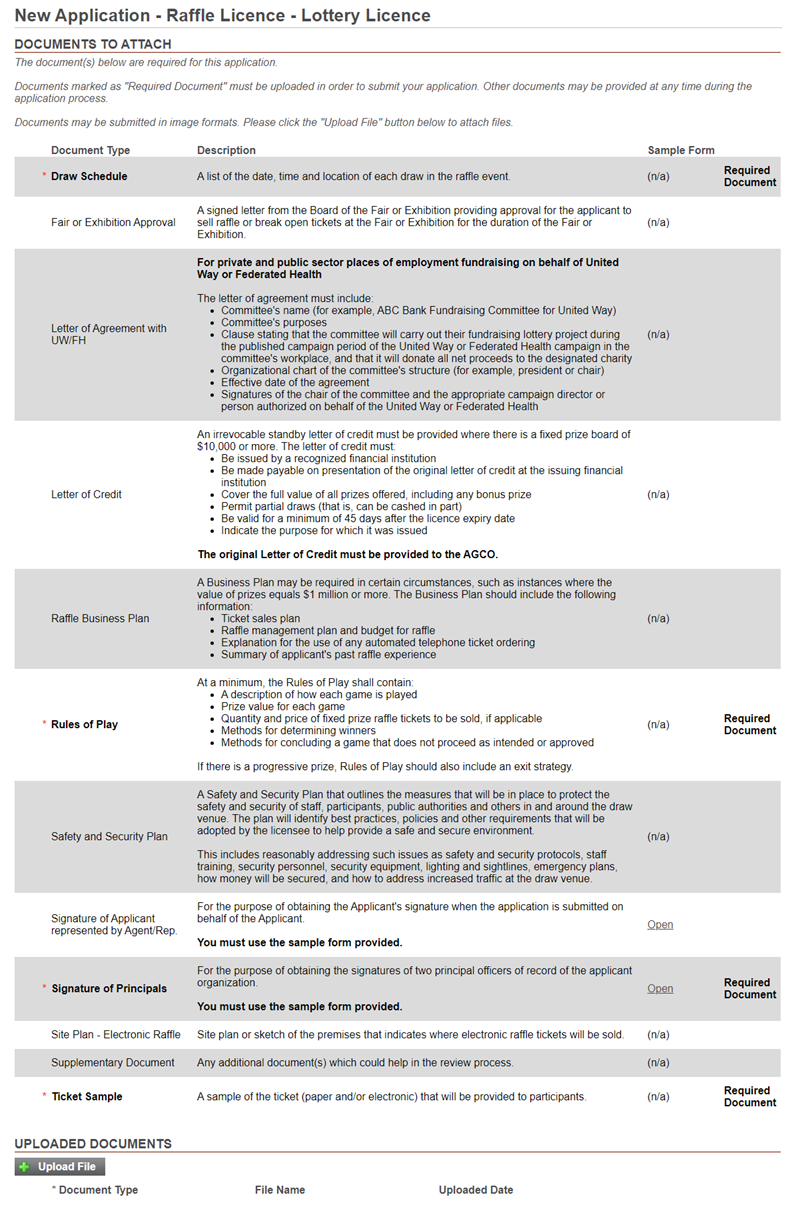 Ontario Example Ruleset
Please update the highlighted items as they pertain to your event and organization.
All tickets will be sold only to people who are 18 years of age or older.
Tickets will be sold online using the electronic lottery system supplied by Rafflebox.
The lottery dates below will occur in the Province of Ontario.
JUNE 15TH 2022
AUG 15TH 2022
OCTOBER 15TH 2022
DECEMBER 15TH 2022
FEBRUARY 15TH 2023
Tickets are 3 for $10; 10 for $20; 50 for $50, 200 for $100. NOTE a Maximum number of tickets must be defined if running a prize raffle vs a 50/50.
After buying, patrons will be provided by the sellers, a receipt with their registered numbers from the electronic raffle system (Rafflebox). No specific numbers can be given as they are issued in sequence of order.
The winning ticket number will be selected by a Random Number Generation (RNG) system from all lottery numbers sold for the draw.
The draw will be done at Physical Location of the Draw and the winning number will be updated on the lottery landing page and on Host Organizations Website/Social Media.
Winners may claim their prize by contacting Host Organization Name at Contact Phone Number. Winners will be paid by cheque. Winners must have the original winning ticket and no copies.
The winning ticket holder has six months to claim their prize from the date of the draw their ticket was purchased for.
The winner must provide his/her name, address, and phone number with picture identification for our report sheet.
Once the certified winner is verified, and provides identification with photo ID, they will be given a cheque in the amount of the declared prize which is, at minimum, 50 percent of the total sales for that draw (or other prize type details). If the winner cannot provide photo ID, then the winning proceeds will be held until such identification can be provided.
In the event that no winner comes forward, the winning number will be kept on file in a secure location and held for six months. After that time period has elapsed, the prize will be donated to Host Organization, with the approval of the Alcohol and Gaming Commission of Ontario (AGCO).
The following individuals are not eligible to participate in the 50/50 draws:
Residents outside of Ontario
Anyone under the age of 18
Or any other restricted members such as the organizations board members and/or active participants.
The above set of rules will be posted on the lottery website.
Ontario Problem Gaming Helpline (1- 888 – 230 – 3505) www.connexontario.ca